Biljana Stepanović is general manager of Business Info Group and Editor-in-Chief of the "New Economy" magazine.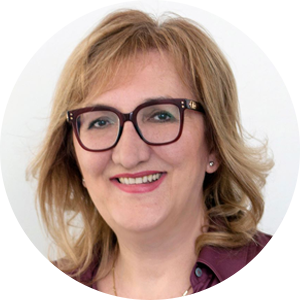 She is the media relations trainer for the Government officials, companies, various organizations etc. She also works as a trainer for students on a voluntary basis for more than 10 years.
She organizes various trainings for journalists, some of them with supports of Ministry for culture and information.
She used to organize more than 100 different events – conferences (including regional and international), forums, roundtables as Business Info Group and in cooperation with international institutions – EU, NED, BTD, OSCE, British Council, EBRD, CEI, Konrad Adenauer, Friedrich Ebert etc.
Prior to this, she served as the General Manager of the Economist Media Group, the leading media group in the field of economy at that time.
She was the founder and chief editor of the monthly magazine Bankar and the author and editor of a weekly program Buđelar on TV B92, broadcasted from 2005 to 2011. After that, she has established
"Economy and me" TV show on national TV channel RTS and "Economy 3" on TV Vojvodina. All of them are national broadcasters.
She served as the columnist for the daily paper Danas.
She was the editor of the TV B92 economic department from 2004 to 2006.
Prior to her work at TV B92, she served as Belgrade correspondent on economic issues for Radio Free Europe from 2000 to 2006, as well as editor-in-chief of the monthly magazine CorD, in English, for foreign diplomats in Serbia.
Before that, she served as a journalist in NIN weekly from 1997 and daily newspaper "Naša borba" and "Borba" from 1987.
She works on a voluntary basis as a trainer and motivational speaker for students and various student organizations all around Serbia.
She graduated on the Faculty of Political Science in Belgrade, in the department of Journalism.
Last modified: Friday, 8 October 2021, 11:32 AM